Plenary Session [PL-01]
"UD in an Era of Super-Aged Society"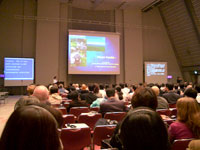 Ms. Fletcher spoke about recent UD-related efforts and future issues. Then, as strategies for moving ahead, she said that the following were necessary.
Endorsing the framework of WHO's new definition of disability called ICF (International Classification of Functioning, Disability and Health);
Making the sharing of information a global priority;
Setting an international priority on building an economic case for UD;
Finding the design features that support our brains to work at their best, with the partnership between design and neuroscience.
their best, with the partnership between design and neuroscience.
Ms. Barratt spoke on worldwide problems and trends, including those of developing countries, and about the importance of projects targeted at senior citizens. She then discussed the magnitude of the power possessed by designs and the magnitude of the business market for projects directed at seniors, and proposed that "effort should be put into projects that will improve the abilities of seniors, with the problems of developing countries also being taken into account."


Plenary Session [PL-02]
"UD in Local Communities"
(Summit of the heads of major autonomous bodies)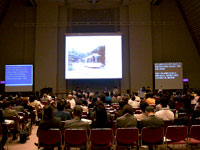 First of all, the panelists introduced the UD-related efforts of their respective communities. They then discussed their communities' connections with industry with regard to promoting UD.
---
Ms. Keiko Kiyohara, Mayor of Mitaka City Tokyo:
"What's vitally important is to create a barrier-free attitude: an absence of prejudice against people who need UD. Exchanges between communities and working together are important for building communities that are friendly to everyone."
---
Mr. Mamoru Tsuchino, Mayor of Takayama City:
"Money and time are necessary to build communities that are friendly to everyone. Also, removing one barrier sometimes creates another. Removing barriers is an endless job. So it has to be continuously carried out."
---
Ms. Yoshiko Shiotani, Governor of Kumamoto Prefecture:
"When promoting UD, one perspective that's important is process. What I mean is the process of constantly looking back and thinking, 'Is this a good way to do it?' And for this process to be truly effective, the parties directly involved in UD have to take part in it."
---
Mr. Keiji Yamada, Governor of Kyoto Prefecture:
"First, we need to change our mentality and create UD checkpoints that become a fixed part of the government's perspective. We need to create guidelines such that UD will be incorporated into all government measures."

Special Session [SS-01]
"Way for Japan to Go"
Panelists:
Coordinator:
Satoshi Kose (Professor, Shizuoka University of Art and Culture)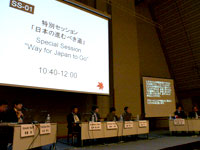 First of all, Mr. Atsushi Saito the Cabinet Office, outlined the measures that the Japanese government is now pushing ahead. He recognized that the basic thinking in UD-related measures is that "each person is different in abilities and personality," and said that "the aim is to create a society in which each individual, regardless of age or physical disabilities, can fulfill his or her role and responsibilities as a full-fledged member of society and live life with confidence, pride and happiness while participating in social activities."
Then Mr. Yukihisa Kiho, from the Ministry of Economy, Trade and Industry's Policy Office for Design and Human Life Systems, spoke on the subject of the kinds of UD to use in manufacturing.
Mr. Kisaburo Ishii, from the Ministry of Land, Infrastructure and Transport's Policy Bureau, explained the government's measures regarding the upgrading of facilities and other parts of the environment. Apropos of the new barrier-free law, he mentioned such points as "increasing the target facilities, making priority upgrades possible for places used by seniors and the disabled, promoting a barrier-free attitude, and introducing a 'spiraling-up' in which improvements are verified as they are made." He also spoke about future issues, saying, "There's not enough business sense in the current approach to urban planning; we want to deal with that in the future."
Then Mr. Kazuma Yokota, from the Ministry of Public Management, Home Affairs, Posts and Telecommunications', Information and Communications Policy Bureau, said, regarding the "u Japan Policy," that its goal was "a network society in which anyone, anywhere can connect at anytime using anything." He then stressed the need for efforts by society as a whole, saying, "It's necessary that all of Japanese society promote a society in which seniors and the disabled can participate through the use of ICT, regardless of their age or physical limitations."
Mr. Kenichi Furuichi, from the Ministry of Health, Labor and Welfare's Health and Welfare Bureau for the Elderly, followed, speaking about the assistive care insurance system. He explained the system's purpose, "We want to arrange services" he said, "so that if people require assistive care, they can, to the extent possible, lead an independent life in the place where they are used to living; and we want to make it possible for the users of the system to themselves make the choices." He touched on the current situation, in which the size of the budget has grown enormously, and spoke about operational issues, saying, "How far will the things eligible for assistive care insurance payments extend in the future? We want to maintain the system while incorporating into it people's personal share of liabilities and the use of private insurance, and make it possible for each person to be independent."
Finally, Mr. Koichi Aizawa, from the Ministry of Economy, Trade and Industry's Industrial Science, Technology Policy and Environment Bureau, explained about efforts at standardization. Giving concrete examples, he spoke about the efforts to create ISO/IEC Guide 71 (guidelines and considerations for producing standards that address the needs of seniors and the disabled) and about the JIS standards that have been created until now. He also touched on the five types of JIS standards regarding which efforts are now being made to achieve international standardization, and characterized the Ministry of Economy, Trade and Industry's policy as "promoting, from an international perspective, efforts to create accessible designs."

Special Session[SS-02]
"What Should Users Do"
Speaker:
Panelists:
Coordinator: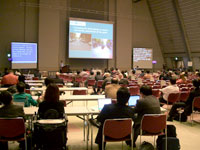 Mr. Francesc Aragall introduced the efforts of the Design for All Foundation, providing various examples . He emphasized the importance of "relations between users, government and corporations" in promoting Design for All. And in order to realize a more affluent society, he said, "it's necessary to learn much from the diversity of people and their differences in personality, and for each individual to undertake efforts as a matter of personal importance."
In the panel discussion that followed, the theme of how consumers should concern themselves with the products and services of corporations was discussed.
---
Ms. Mie Asaoka:
"I think that a mechanism is necessary whereby consumer groups and others can collect information on problems that are discovered in using a product, and then presenting it to the manufacturer."
---
Ms. Kaori Yamane:
"I would like to see all people, regardless of sex or occupation, engage, as members of society, and in their responsibility as adults, in solving the problems of living."
---
Ms. Hiroko Kakuta:
"Even with good products it sometimes happens that information is not provided, through labeling and advertising to consumers. I would like to see corporations make greater effort to inform consumers about which products are UD products."
---
Ms. Kuniko Misawa:
"It's important for consumers and corporations to share information and ideas, such as, "I would like this kind of product," or, "If you did this, it would be easier to use."

Conference Report | Declaration | 1st day: October 22 | 2nd day: October 23 | 3rd day: October 24 | 4th day: October 25 | 5th day: October 26
Scenes in Conference | Scenes in Exhibition