Keynote Speech [KS-01]
"UD for Communication"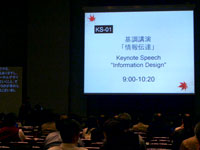 Mr. Roger Whitehouse characterized his thinking and efforts regarding UD as "responsible design" composed of three factors: accessible design, inclusive design, and sustainable design. He explained what he meant by citing concrete examples, including the Lighthouse and the Harlem Gateway in New York.
Mr. Larry Goldberg spoke about his efforts in developing subtitles and sound decoding technology for television broadcasts, DVDs, the Internet and other media, providing specific examples from news programs, cooking programs, and such animated movies and programs as "The Lion King" and "The Simpsons."

Keynote Speech [KS-02]
"UD for City Planning and Disaster Prevention"

Speakers:
Wolfgang Preiser (Professor, Architecture at the University of Cincinnati, USA)
Edwina Juillet (Director, National Task Force on Fire and Life Safety for People with Disabilities, USA)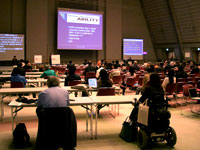 Mr. Wolfgang Preiser explained the "7 Principles of UD," giving various examples of buildings and facilities from throughout the world, including an airport, a hospital, a museum, a sports stadium, an office building, a university, a traffic signal machine, an elevator, a restroom, and more.
Ms. Edwina Juillet explained her basic thinking, saying, "It's important to think of people with disabilities not as a separate category but rather as being part of a larger group. 'People with special needs,' would include people with disabilities, the poor, people who can't speak English, children, seniors, and others." She also spoke about disasters that have occurred in the United State, the administration's efforts to deal with them, disaster preparedness, and other subjects.

Keynote Speech [KS-03]
"UD for Medical and Assistive Care"
Speakers:
Satoshi Ueda (Adviser, Japanese Society for Rehabilitation of Persons with Disabilities)
Yayoi Ohkawa (Director, National Center for Geriatrics and Gerontology)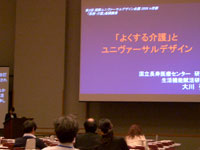 Mr. Satoshi Ueda gave a speech entitled "UD and Rehabilitation as a Right of All People." He explained his basic thinking about general rehabilitation, saying that to enable patients to be able for them to create a happy life, "it's important to employ an approach that integrates two models: the medical model (a focus on treating each individual's problems), and the social model (a focus on eliminating the barriers that hinder participation in society)." He stressed the importance of linking together a wide range of fields, including medical rehabilitation, special support education, occupational rehabilitation, and social rehabilitation.
Next, Ms. Yayoi Ohkawa delivered a speech entitled "UD and Assistive Care that Improves Functioning .""Assistive care," he said, "is not for helping with disabilities but rather for improving functioning in daily life. Depending on how it is done, however, it can improve functioning or, conversely, worsen it." He explained this through talking about such subjects as assistive care prevention, disuse syndrome, and a created inability to walk.
Both speakers gave the valuable advise that it would be beneficial to use the WHO's ICF (International Classification of Functioning, Disability and Health) in UD.

Special Session [SS-03]
"Social System Design" -Health, Medical Care, Welfare and Housing Refurbishment-
Panelists:
Seiji Sawada (Professor, School of Science and Technology, Meiji University, Japan)
Takuo Kuroiwa (Chairman, Healthcare Organization Moegien, Japan)
Sukehiro Hosono (Professor, Faculty of Policy Studies, Chuo University, Japan)
Tadao Miyakawa (Professor Emeritus, Hitotsubashi University, Japan)
Monte Cassim (President, Ritsumeikan Asia Pacific University, Japan)
Satoshi Ono (Faculty of Informatics, Kogakuin University, Japan)
Coordinator:
Yoichi Tao (Visiting Professor, CPD Center, Kogakuin University and Senior Advisor, Secom Co., Ltd., Japan)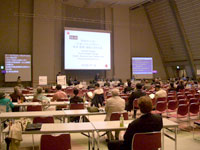 First of all, Mr. Seiji Sawada, presenting examples from Germany and Sweden, explained current issues in the refurbishing of housing developments. Mr. Sukehiro Hosono then explained the situation and the issues related to the housing developments in new towns in Japan.
Issues related to housing refurbishment were then discussed from the standpoint of the social system by Mr. Tadao Miyakawa, and from the standpoint of community medical care by Mr. Takuo Kuroiwa.
Next, Mr. Monte Cassim presented efforts related to the medical system; and Mr. Satoshi Ono discussed the IT support for the social system, and the system's features and current direction.
Finally, Mr. Yoichi Tao expressed a desire to further expand the discussion, saying, "A hierarchical society is a weak point in the design of a social system. In the future, I'd like to expand the networks and have them stimulate each other and, engaging ordinary citizens as well, try to determine what should be the relationship based on which design and operation should be carried out."

Special Session [SS-04]
"UD for the Majority World"
Speakers:
Singanapalli Balaram (Professor, DJ Academy of Design, India)
Abdul Zazai (Afghan Rehabilitation and Logistical Organization, Afganistan)
Sanjeev Sachdeva (National Center for Promotion of Barrier-Free Environment for Disabled Persons)
Anjlee Agarwal (National Center for Promotion of Barrier-Free Environment for Disabled Persons, India)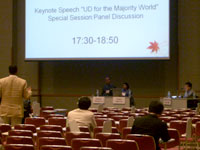 Using India and China as examples and citing some of his own efforts, Mr. Singanapalli Balaram discussed such subjects as the overall trends in the issues and conditions surrounding the UD for the majority of the world's developing countries, and the friction that rapid modernization was causing with traditional culture and religious views.
Mr. Abdul Zazai stated that due to the effects of over 20 years of war, Afghanistan's entire infrastructure -for security, education, medical services, etc.- has collapsed. He also described the living conditions of the disabled, who, in the aftermath of that collapse, are being crushed by extreme poverty. He emphasized the dire need for international support directed at eliminating poverty and discrimination and improving education and the living environment.
Mr. Sanjeev Sachdeva and Ms. Anjlee Agawal discussed UD efforts in the transport field -buses, subways, etc.- mainly in India.

IAUD Session [IS-01]
"The Society IAUD Aims for"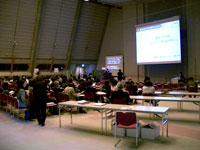 IAUD's philosophy, policy, the activities of its divisions, and other matters were presented in this session.
Following greeting from Mr. Kazuo Toda, Chairman of the Board of Directors, Mr. Mitsuo Kawaguchi outlined IAUD's philosophy and policy.
Then Mr. Shuichi Jingu, head of the Research Development Planning Division, and Mr. Yoshinori Katagami, head of the Project Planning & Public Relations Division, explained their respective divisions' organizational makeup, administrative system and activities.

IAUD Session [IS-02]
"IAUD's research study activities"
In this session, the research and study activities being conducted in IAUD projects and working groups were introduced.
First, Mr. Nobuho Miyawaki, manager of the Living Space Project, presented research based on the theme, "UD Research on Bathing, Based on International Comparisons."
Next, Mr. Katsuyuki Kondo, of the Mobile Space Project, presented research based on the theme, "Towards Realizing Seamless Mobility."
Then Mr. Saburo Sumi, manager of the UD Project for City Environment presented research based on the theme, "Universal Design for Urban and Regional Planning."



IAUD Session [IS-03]
"The UD guideline IAUD pursues"
In this session, the research on UD guidelines conducted by a working group, a project and a group was presented.
First, Mr. Masatoshi Nomura, assistant manager of the Standardization Study Working Group, presented research based on the theme, "The IAUD Universal Design Matrix: Connecting Users and Makers."
Next, Mr. Tomoyuki Takada, team leader of the Public Relations Group's Publication Planning Team, presented a research report based on the theme, "Guidelines for IAUD Bulletins."
Then Mr. Tetsuya Muroi, manager of the Working Environment Project, presented his research based on the theme, "Universal Design for Conferences."

IAUD Session [IS-04]
"Examples of UD Activities"
First, Mr. Tatsuo Kojima, manager in charge of the IAUD Award Section of the IAUD Project Planning & PR Division, explained the significance and objectives of the IAUD Award. He outlined the trial evaluation, of entries submitted by IAUD members, in the efforts conducted in fiscal 2005 for establishing the award.
Then Mr. Akinori Komatsubara, professor at Waseda University and chair of the Trial Evaluation Committee, spoke about the social significance of the IAUD Award and of the importance of continuing the award.
For each of four entries submitted for the trial evaluation - "Nissan Human-Machine Interface Development Activity" (Nissan Motor Co.; Ms. Yoko Horiuchi and Mr. Yonosuke Miki), "Toppan's Universal Design Activities" (Toppan Printing Co., Ms. Hisako Takeshima), "Transcending the Boundaries and Interests of Corporations and Organizations to Provide a User-Oriented Universal Interface Design (CSR Project, Mr. Akira Ishida), "Hitachi's CSR and Universal Design" (Hitachi, Ltd., Mr. Taei Kubota) - the entry's approach to UD and specific undertakings were presented.

IAUD Session [IS-05]
"How are communications practiced?"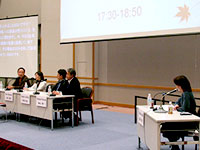 First, Mr. Masakazu Hosoyama, manager of the Promotion Planning Working Group, gave a speech on "The Dialogue between Makers and Users Promoted by IAUD."
Then Mr. Sumio Ichiba, manager of the UD Workshop Working Group, delivered a speech entitled "The Possibility of Developing UD from the discussion in IAUD Workshops."
Then Ms. Karin Matsumori, a freelance UD researcher, presented a speech entitled "What are the Benefits and Problems of the Communication Conducted by IAUD?"
Finally, Mr. Takehiko Katsuo, editor of "Nikkei Design," gave a speech entitled "Japanese Companies Evolve as They Grapple with UD,"
A panel discussion was then held in which four panelists exchanged lively opinions on various subjects, including the following.
- From what perspective should "discussion" be understood?
- How do you achieve both UD and economic efficiency?
- What is necessary for UD to become the mainstream in the future?
- What are the future issues for IAUD?

Conference Report | Declaration | 1st day: October 22 | 2nd day: October 23 | 3rd day: October 24 | 4th day: October 25 | 5th day: October 26
Scenes in Conference | Scenes in Exhibition