Opening Ceremony
Patron's Greeting
His Imperial Highness Prince Tomohito of Mikasa attended the conference and delivered a speech in spite of the difficulty in speaking caused by a fractured jaw. He explained the reasons for holding the conference in Kyoto. "Rather than having it in an easily accessible place such as Tokyo or Yokohama," he said in explaining the reasons for holding the conference in Kyoto, "we thought it would better serve the purpose of spreading universal design throughout Japan if our message was sent out from a regional location." He looked forward to the outcome of the conference held in the beautiful ancient capital of Kyoto.
Open Symposium
Keynote Speech 1
"Japan as a Member of the World Community"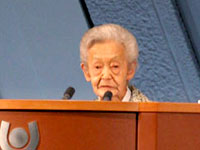 Mme. Yukika Sohma (1911- ) spoke on various subjects: on what she learned from her father, Yukio Ozaki (1858-1954), who consistently maintained his political commitment at the risk of his life to "thinking about the future of Japan" throughout a tumultuous period; on the background to establishing an organization, Association to Aid Refugees; on the aims of the Gakudojuku, an institution sponsored by the Ozaki Yukio Memorial Foundation to nurture and train responsible citizenship. She also emphasized the importance of "each individual doing whatever he can" and of "thinking and acting not just for oneself or not just for Japan but for the good of the entire world."

Keynote Speech 2
"Light, Sound and Words"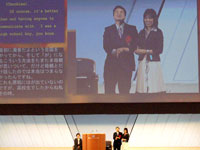 Dr. Satoshi Fukushima likened the mental landscape of a sight- and hearing-impaired person to "a TV set whose screen has gone dark and that has no sound," and explained it through his own personal experiences. He said UD should have as its goals, "the expansion of services and social mechanisms," "linking UD to social security services, so that it can truly be used by everyone who wants to use it," and "flexibly dealing with individual issues while maintaining a systematic and universal approach to UD." He emphasized the importance of "people talking to each other, of communication, as the driving force of UD."

Panel Discussion
"Universal Design Today and the Future"
Panelists:
Coordinator:
Mitsuo Kawaguchi (Chairman of the Board of Directors, IAUD)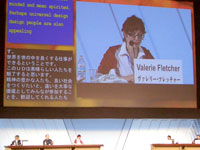 The discussion began by each panelist introducing him or her self, mentioning the country, personal undertakings, and expectations, issues and suggestions for this international conference. They then discussed the issues involved in creating a UD index.
---
Mr. Alex Lee:
"We talk about 'easy to use', but where you draw the line between what is and what isn't easy to use is a problem. Establishing guidelines and laws for that would be no easy matter. And regulating it would also be difficult, at least as regards consumer goods."
---
Mr. Francesc Aragall:
"I think the only way that UD or Design for All can be standardized is probably through a process in which companies understand users' needs and then reflect these when next developing products, and making improvements accordingly."
---
Mr. Roger Coleman:
"UD is a process. It's a process, I think, in which there is no end point. You're always improving, always advancing."
---
Ms. Valerie Fletcher:
"Over-standardization would end up causing UD and Inclusive Design to become ossified. It would be better, I think, to create awards that stimulate creativity in design and that promote efforts at UD."
---
Ms. Jane Barratt:
"We have to think in terms of individuals who have different abilities, different cultural backgrounds, and different social structures. We have to think carefully about who standardization is for and what standardization is for."
---
At the end, Chairman of the Board of Directors, Mitsuo Kawaguchi summed up, saying, "The targets of UD are individuals in their myriad situations and thus humanity as whole. Therefore, UD does not have a single solution. As members of society, as members of corporations, or just as individuals, we have to use whatever opportunities we can to further this discussion." With that he concluded the panel discussion.

Conference Report | Declaration | 1st day: October 22 | 2nd day: October 23 | 3rd day: October 24 | 4th day: October 25 | 5th day: October 26
Scenes in Conference | Scenes in Exhibition