Keynote Speech [KS-04]
"UD for Public Transportation"
Ms. Patricia Moore spoke about the lessons she learned while she lived three years disguised as an eighty-five-year-old woman and about the projects she was involved in recent years for development of aircraft and rail.
Mr. Toshimitsu Sadamura then made a presentation on the process of the development of Nanakuma subway line in Fukuoka City, Japan, and about the various UD ideas that were realized through the total design concept. Because the project's design was well planned from the outset, he succeeded in reducing the cost by as much as ¥40 billion from ¥300 billion to ¥260 billion. It was a valuable presentation.

Keynote Speech [KS-05]
"UD Management"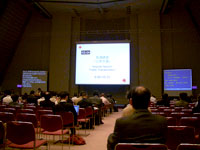 Mr. Masayoshi Watanabe described the effectiveness of "Assessment of UD" (assessment of the organizational ability levels for promoting the UD process) by showing concrete examples. He pointed out that the biggest problem in UD management was "not knowing what the problems were" and the effective approach to overcoming this was "to establish a methodology for analyzing and recognizing the problems."

Keynote Speech [KS-06]
"UD in Germany"
Speaker:
Fritz Frenkler (President, f/p Design Deutschland GMBH / Professor, Technische Universitaet Muenchen, Germany)
Mr. Fritz Frenkler talked about the definition of "design," an UD association established in Germany in 2006, and the current design issues as seen from the perspective of marketing and branding.

Keynote Speech [KS-07]
"UD in Northern Europe"
Speakers:
Lars Lindberg (Deputy Director, Ministry of Health and Social Affairs, Sweden)
Lauri Repokari (Research Manager, BIT Research Centre Decode Research Group Helsinki University of Technology, Finland)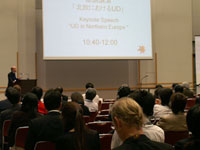 First, Mr. Lars Lindberg spoke about the history of welfare in Sweden and Sweden's current welfare policy, by giving specific examples.
Mr. Lauri Repokari then described his efforts in Finland.

Keynote Speech [KS-08]
"UD in the 70s Japan"
Speakers:
Kan Nomura (Professor, International University of Health and Welfare Graduate School / Chairman, the Japan Association for Inclusive Society, Japan)
Tadao Koga (Professor Emeritus (Ph.D. in Engineering), Kyushu Institute of Design, Japan)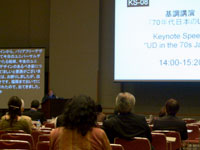 Mr. Kan Nomura explained the background and activities of barrier-free design during the 1970s in Japan by giving concrete examples. Even though the activities in the 1970s were "deficient by today's standards," Mr. Nomura underlined their importance as "building the foundation for today's UD."
Mr. Tadao Koga then talked about the past developments of UD in Japan and how it should be in the future. He divided the development of UD movement in Japan into the first stage of design for the physically challenged (1945-1969), the second stage of barrier-free design (1970-1994), and the third stage of UD (1995- ). He also described his own activities and gave a number of examples to illustrate his presentation. At the end of the speech, he suggested the future course of design by saying, "Barrier-free has made a significant progress. The most important future challenge for the aging society is design for promoting health.

Keynote Speech [KS-09]
"Practicalities of Inclusive Design"
Mr. John Clarkson stressed the importance of targeting those who are excluded in product development by saying, "If we can target those who are excluded, we can include those who are marginalized and those who feel that certain products are difficult to use. This will also lead to increasing corporate profits." He also presented a method of assessment that showed how many people could not use a specific product, based on the relation between the product's functions and users' cognitive and physical abilities.

Keynote Speech [KS-10]
"UD for Daily Commodities"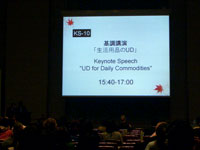 Mr. Alex Lee spoke about OXO International's projects by giving examples of OXO's products.
Mr. Dag Klingstedt then talked about the design philosophy and development methods of Ergonomidesign company and the history of UD in Sweden, by giving specific examples.

Keynote Speech [KS-11]
"Sustainable Design"
Mr. Ryoichi Yamamoto described the global warming crisis. He said at the beginning of his speech that "when we say "design for all," we must include not only currently living generations, but also the future generations of mankind and other species, and design, manufacture, and recycle accordingly." Showing past data as well as future data predicted by an Earth simulator, he emphasized that "we reached the point of no return in the year 2006 when the world's average temperature rose by 1.5 degrees," and called for innovation for improvement in environmental efficiency.
Mr. Fumikazu Masuda then spoke of solutions using eco-materials and of issues that have to be addressed now. He said, "In the future, we must converge within the sustainable path (an order that would allow close to 10 billion people to live on Earth). We need to design products, facilities, and services towards that end," and stressed the importance of asking what we need to do now for the future.

Plenary Session [PL-03]
"UD in Ideal and Education"
Speaker:
Roger Coleman(Professor, Helen Hamlyn Research Centre, Royal College of Art, UK)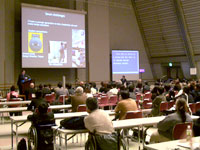 Mr. Roger Coleman enumerated in his speech the following "seven challenges of UD," and gave specific examples for each challenge:

For Education
1. Develop tools, methods and resources for design
2. Foster a younger generation to pick up the baton and provide exemplars
For Research
3. Develop the business case and transfer knowledge to industry
4. Transfer methodology and experience to other fields
For Design & Industry
5. Understand how to market universal design
6. Encourage older people to plan for and invest in their future
7. Work more inventively with users to create desirable products

Special Session [SS-05]
"Dialogue between Science and Design"
Speaker:
Panelists (Beijing):
Robert S. Chen (Director, Center for International Earth Science Information Network, The Earth Institute, Columbia University, USA)
Jisong Wu (Dean, School of Economics & Management, Beihang University, China)
Dehua Chui (Professor, Neuroscience research Institute of Peking University, China)
Kanji Ueda (Director, Professor, Research into Artifacts, Center for Engineering, The University of Tokyo, Japan)
Panelists (Kyoto):
John Clarkson (Professor, University of Cambridge, UK)
Monte Cassim (Vice-Chancellor, Ritsumeikan Trust , Japan)
Masayoshi Kubo (Professor, Kyoto Institute of Technology, Japan)
Kimitaka Kato (General Manager, Fujitsu Limited, Japan)
Coordinator:
Shuichi Iwata (Professor, University of Tokyo/President, CODATA, Japan)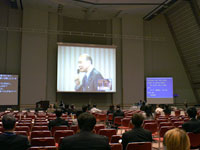 Mr. John Clarkson started the session with an address titled, "Countering Design Exclusion." From the viewpoint of inclusive design, he illustrated, by giving various examples, the method for analyzing and assessing the extent to which people are excluded because of a product's design. He said that a product's design is better when there are fewer people excluded.
In an effort towards promoting dialogue between science and design, the conference was connected to CODATA (Committee on Data for Science and Technology) in Beijing via the Internet for a panel discussion. Four panelists from Beijing and four panelists from Kyoto exchanged opinions on such issues as the significance of utilizing and visualizing scientific data by the power of design.

Special Session [SS-06]
"Kiyomizudera Design Charrette"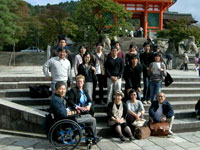 Using the fieldwork approach called the "charrette" for short-term, intensive research and investigation, Ms. Jennifer Jones and Mr. Yoshisuke Miyake walked from Yasaka Shrine to Kiyomizu Temple to investigate what barriers there were to people with limited motion, visual, or Japanese language abilities. They presented the problems they found and what might be done to solve those problems.

Special Workshop
"The 48-hour Inclusive Design Challenge"
The conference registrants entering the Inclusive Design Challenge were organized into five teams, each team headed by a professional designer from Britain. As representing the users, challenged participants were also on board.
The design theme was announced on the first day of the conference, and the teams began work on their designs, which were to be completed within the time limit of 48 hours. Two days later, each team presented its design. The audience acted as judges, and the winners of the Best Idea award and the Best Presentation award were announced.

Conference Report | Declaration | 1st day: October 22 | 2nd day: October 23 | 3rd day: October 24 | 4th day: October 25 | 5th day: October 26
Scenes in Conference | Scenes in Exhibition