Srinivasa Popuri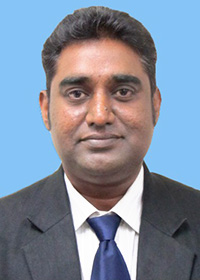 Senior Human Settlements Officer, UN-Habitat: Japan
| | |
| --- | --- |
| Nationality: | Indian |
| Education: | Master of Civil Engineering Environmental Technology and Management Asian Institute of Technology (AIT), Thailand |
A development professional by profession, Srinivasa Popuri has worked for 19 years in the field of human settlements advancing Habitat agenda. Of these, 14 years with United Nations in several countries in Asia and the Pacific after his service for 5 years with Government of India and International Organisation.

The main goal of his work is for improving living standards of the people by advocating national governments in adapting right policies to enable the poor to gain their rights to land, shelter and services. With UN-Habitat he has had the opportunity to achieve this mission and to do some meaningful work in the field of urban development, poverty reduction through community driven development and safer human settlements. His contributions have been realized in some sound urban services and development, disaster risk reduction policies in several countries in Asia and the Pacific. These include India, Thailand, Vietnam, Cambodia, Laos, Timor-Leste, Afghanistan, Maldives, Singapore, Indonesia, Myanmar and Solomon Islands.

As head of UN-Habitat in Myanmar, Indonesia, Afghanistan, and the Maldives, he spearheaded the "people's process" of post crisis (conflict and natural disasters) recovery and reconstruction efforts. His efforts in making the Disaster Risk Reduction (DRR) mainstreamed into housing and infrastructure has been recognized regionally and by the highest political authorities in Myanmar. In Myanmar he was the "Architect" in establishing Urban Research and Development Institute (URDI), launching Inle Lake Long-Term Restoration Plan and Myanmar National Building Codes.

Since September 2012, he is the Senior Human Settlements Adviser of UN-Habitat Regional Office for Asia and the Pacific in Fukuoka, Japan.