Sean Donahue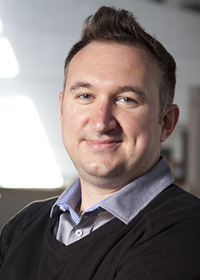 Principal of Research Centered Design, Art Center College of Design: USA
BIO
Sean Donahue is principal of ResearchCenteredDesign, a Los Angeles based design practice and Co-founder of the Media Design Matters Graduate Track at Art Center College of Design in Pasadena, CA. Sean has accumulated a portfolio of projects that, by their very execution, question how and where design is able to make a significant contribution. His persistence in moving from theory to practice has resulted in projects ranging from media impact studies for urban development to hybrid languages for low and no-vision communities.
Sean has lectured and published internationally on the practice of media design. design research and social practices. Lecturing and holding workshops at Harvard, The New School, IDEO, California Institute of the Arts and North Carolina State University. Sean's work most recently has been included in the Cooper Hewitts' 2010 Design Triennial "Why Design Now?,"
The 2011 California Biennial "Action/Reaction," and acquire for inclusion in the Smithsonian permanent collection.